What is Woven Shibori?
Woven Shibori is a process of weaving and resist that Catharine Ellis developed in the early 1990's and has continued to evolve both technically and artistically.
Traditional Japanese shibori uses a variety of means to compress cloth before it is dyed including stitching, binding, folding, pleating, etc. The stitched shibori was the inspiration for woven shibori. In traditional stitched or mokume shibori parallel rows of running stitches are sewn by hand with a needle into a piece of finished cloth. When the stitches are completed they're used to gather the cloth tightly. Then the cloth is dyed. The folds in the cloth resist the dye to varying degrees, resembling mokume or wood grain.
Monk's Belt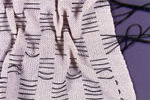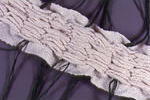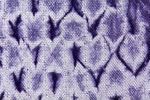 Woven shibori makes it possible to place the "stitches" into the cloth while it is being woven on the loom. Those "stitches" are actually supplemental warp or weft threads that may be structured as a twill, a lace or other pattern. The supplemental threads are used to gather the cloth. Subsequent dyeing results in an image of the woven pattern that is visually softer and less rigid than the original structured cloth.
Twill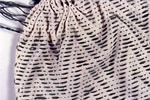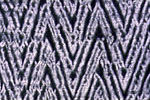 A great variety of fabrics can result from working with woven structure, dye application and fiber choices. Fabrics can be shaped, altered, and processes can be layered to create a rich surface in a true marriage of weaving and surface design.
Woven Shibori by Catharine Ellis (Interweave Press, 2005) is a guide for weavers of all skill levels to explore the possibilities of weaving shibori on the loom and creating cloth that only a weaver can make.