About the Artist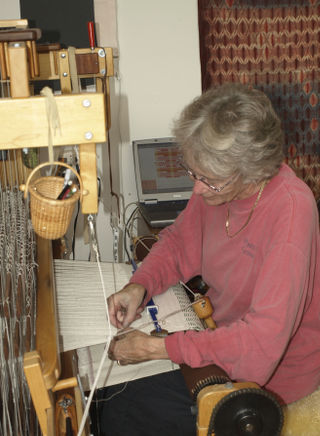 Catharine Ellis has been a weaver and a dyer for over 40 years. After three decades of teaching the Fiber Program at Haywood Community College in NC she is now dedicated to studio work, focusing on natural dye processes. She also does specialized, selected teaching, in the U.S. and internationally. Recent projects include teaching natural dyeing in Guatemalan through Mayan Hands.
Catharine is the originator of the woven shibori process and author of the instructional book, Woven Shibori (Interweave Press, 2005). Her textile work is shown extensively in exhibitions and shows. She is currently working collaboratively with the Oriole Mill in NC to produce specialty Jacquard fabrics.
Catharine is actively involved in the Surface Design Association, the World Shibori Network, and is a founding member of the Southeastern Fiber Educators Association. She has served on the boards of Penland School of Crafts and the Center for Craft, Creativity, and Design and established the Western North Carolina Textile Study Group in 2012.
Selected Exhibitions
2014 - Game Changers, Fiber Art Masters and Innovators - Fuller Craft Museum, Brockton, MA July 5, 2014 - November 23, 2014
2014 - Zen - Blue Spiral Gallery, Asheville, NC
2014 - Continuing Conversations - Barton Art Galleries, Wilson, NC
2013 - Earth Friendly Alchemy - San Antonio, TX
2012 - Textiles Today - Redefining the Medium, Durango Arts Center, Durango, CO
2011 - Evolution and Imagination - Cameron Art Museum, Wilmington, NC
2011 - Common Threads - Center for Craft, Creativity and Design, Hendersonville, NC
2010 - Binary Fiction: Digital Weaving 2010, Lincoln, NE